Using Forecast Modeling to Predict Shifts In the Automotive Supply Chain
Earlier this month, President Biden announced a new target for half of all U.S. vehicle sales to consist of battery-electric, fuel-cell electric, or plug-in hybrid vehicles by 2030. Simultaneously, the EPA also announced new emission standards, with an annual 8% increase in fuel efficiency for model years 2024 – 2026.
While most of the automotive industry has been prepared to see tougher emission standards enter the marketplace since Biden took office, predicting those numbers and understanding exactly how it would impact the industry has been up for debate until now.
Using compliance-based forecast modeling, our team at PE Strategic Consulting carefully calculated the potential legislative outcome and developed an in-depth report based on the proposals of Pete Buttigieg, U.S. Secretary of Transportation, for the automotive future. In this report, we closely compared the regulatory changes over the last decade and made calculations as to how the new regulations will look in terms of market shifts year over year for the next decade.
Download the full 2021 Regulations Forecast Report. 
These insights can be extremely useful for companies in the automotive industry to incorporate accuracy into their strategic plans as they navigate their way through a rapidly changing market.
How the new fuel efficiency standards will impact the market
Biden's 8% annual fuel efficiency increase, in line with our previously predicted 8.4% increase, is nearly double the original emission standards set forth by the Obama administration in 2011 and is far more aggressive than the virtually non-existent regulations during the Trump administration. Further, if the 8% increase continues after 2026, we can expect to see a 107-gallon-per-mile standard by 2030 and 47 gallons-per-mile and 100% Zero Emission Vehicle (ZEV) by 2035.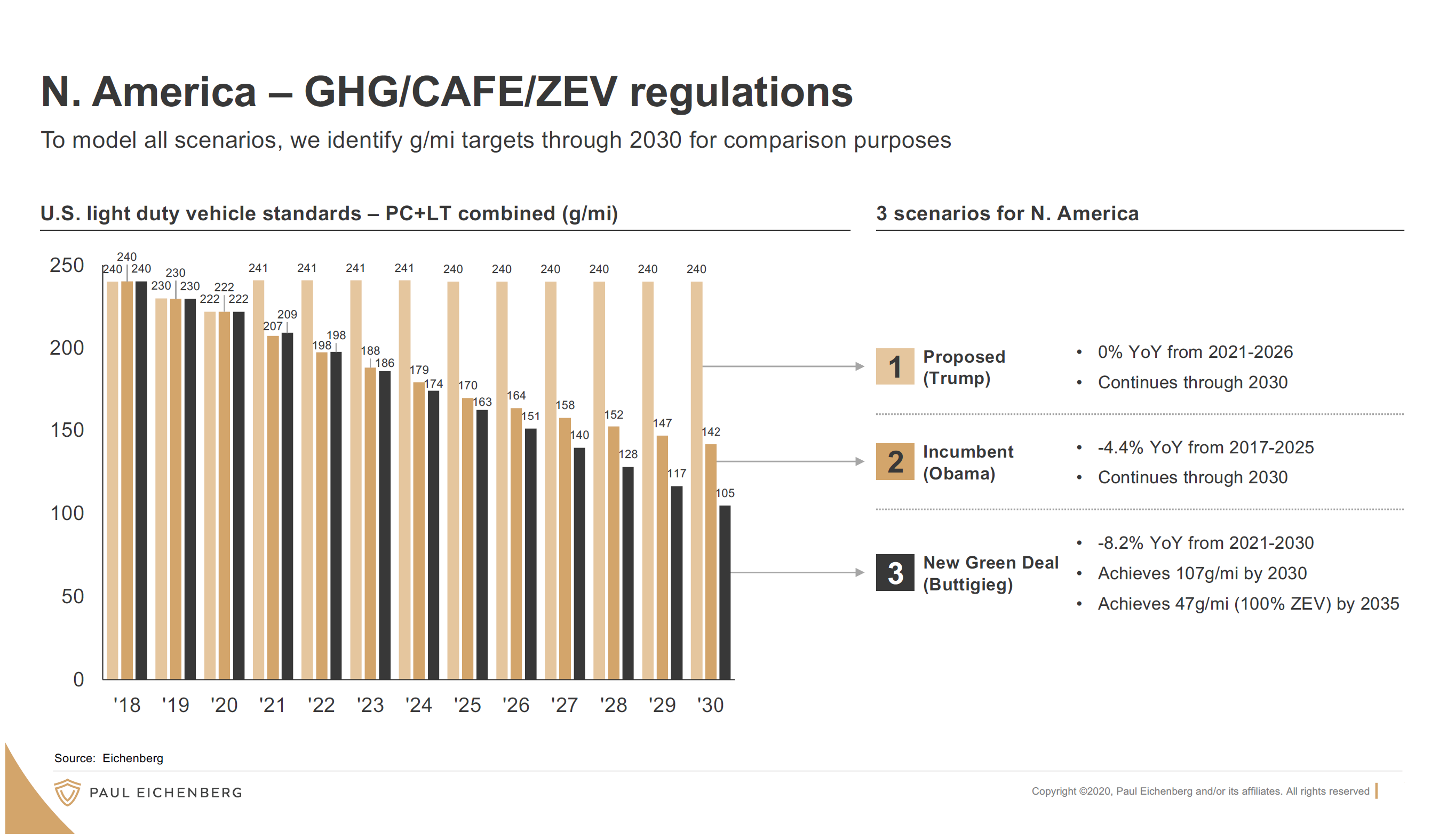 These new standards fall in line with targets set forth by California and what a handful of automakers have already committed to achieving. It would also put the U.S. as a whole back on par with the other major economies worldwide, which is a necessary measure if we want to remain industry leaders in the new automotive world. However, even with drastic changes, we would not have the most aggressive legislation on the books, falling shortly behind the European Union's targets.
Still, for those in the supply industry, one of the most important factors to look at regarding this new legislation is how automakers will comply with the increasing regulations. Biden has called for 50% of the market, or about 7.8 million vehicles, to consist of battery-electric, fuel-cell electric, or plug-in hybrid by 2030. Understanding which of these are likely to lead could be key for manufacturers of vehicle components to determine their portfolio mix.
Based on our forecasting models and recent innovations in battery technology, we predict that there will be a progressive adoption of the battery electric vehicle (BEV). In particular, we expect to see roughly 3 million BEVs on the market in 2025 and 5.2 million new model BEVs for sale by 2030. This will put BEV in the lead of all carbon-alternative technologies, accounting for roughly 32% of the total car market.
How to prepare for new automotive mandates
Having stricter regulation standards in place only adds momentum to the already established race to electrification, which means drastic shifts in the workforce, vehicle components, supplier base, and key competitors over the next 10 years.
Automotive players can expect to feel the dramatic impacts of electrification over the next decade and should be carefully analyzing the year-over-year implications of legislative regulations globally and commitments set forth by automakers themselves. This requires thorough industry research and long-term strategic planning to continuously align your business with the shifting demands over the next 5 to 10 years.
Automotive suppliers, in particular, will need to closely examine their portfolios and make critical decisions on where they want to land in 10 years, and then build a roadmap to help them get there.
Download our full, in-depth analysis to help you better understand the marketplace and make smart, accurate predictions for the automotive future.